There is a wide difference between air filtration and air Purification.
Air filtration is commonly used in most standard systems and filters the larger particles that are suspended in the air as it passes through the system. Depending on the density and surface area of the filter it can cover a wide range of particulates. This is not a bad thing but people with allergies to pollens, pet dander, smoke and other allergens might not get the full benefit with this type of filtration.

Air Purification systems also have a wide variety of systems that will further filter and also purify to a greater quality than the standard filtration. These systems will in most cases help filter, catch and kill the smaller particles that are more health damaging to vulnerable family members. There will be a wide price range associated with the different products. The most expensive is not always the best for each individual. It is more economical to install most systems when the home is built but in existing homes without purification, there are products that are less costly and work well with the existing equipment. For best results it is recommended that the air ducts be cleaned and sanitized before the new purification equipment is installed. This will allow a clean start up on your system.



How iWave Works
iWave is an air purifying device that installs in any duct air conditioning system. When air passes over the iWave, ions produced by the device reduce pathogens, allergens, particles, smoke and odors in the air, creating a healthy environment without producing any harmful byproducts.
iWave uses patented technology, called needle-point bi-polar ionization, to create equal amounts of positive and negative ions. When these ions are injected into the air stream, they break down passing pollutants and gases into harmless compounds like oxygen, carbon dioxide, nitrogen and water vapor (see illustration below).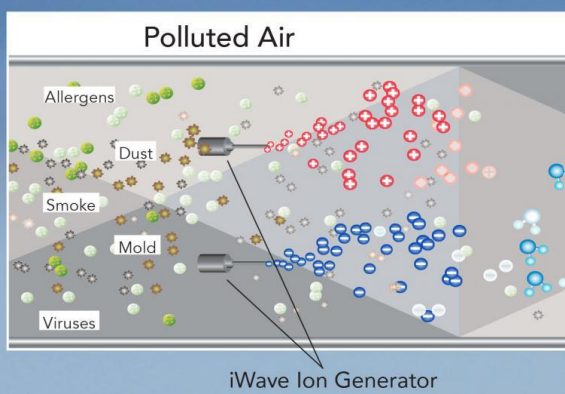 When the ions come in contact with viruses, bacteria or mold, they remove the hydrogen molecules - without them, the pathogens have no source of energy and will die. The ions also attach to allergens like pollen and other particles, causing them to band together until they are large enough to be caught by your ventilation system's air filter.
iWave's technology generates the same ions that nature creates with lightening, waterfalls, ocean waves, etc. Nature uses energy and shear to break apart molecules, naturally cleaning the air and producing a healthy environment. The only difference between the iWave's technology and nature is that the iWave does it without developing harmful ozone.